Good Afternoon! Wynnewood schools will continue with virtual learning for the remainder of the week and will start back in person on Monday, February 22nd. Please do not hesitate to reach out to a teacher, your building principal, or me if you have any questions or needs. Please be careful and stay safe.

Please note!!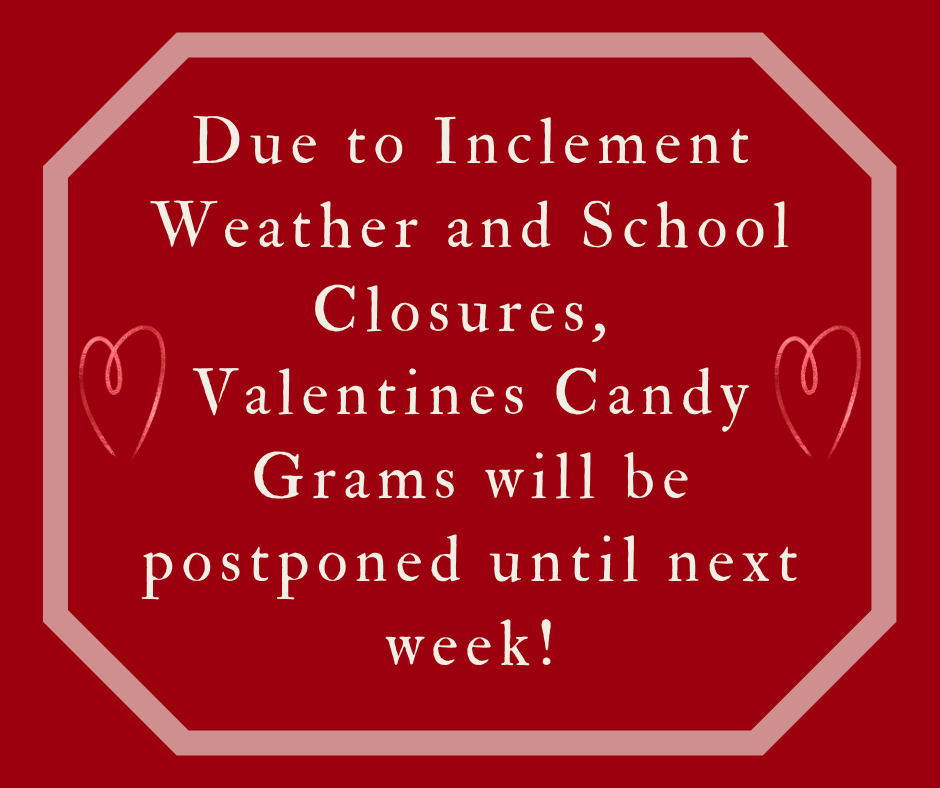 Good Morning, Folks! I am all but certain that school will be in session tomorrow. Next week doesn't look as certain, but Oklahoma weather can turn on a dime, so we'll wait and see what it looks like on Sunday going in to Monday. We will be making sure that our students are going home with their devices tomorrow. If we have to miss school, the days we miss will be virtual learning days. I just want to give you a chance to think about child care if we have to be out for a couple days or more. Even when we are out, if you call and leave a message, the voice recording will be sent to our email inboxes, and we'll be able to get back to you and address the problem. If you find yourself in need of any winter clothing such as coats, hats, gloves, etc. for your kids, please send me (Tim Simpson), your building principal, or your child's teacher a text message, an email, or a voice message so that we can help. It's going to get very cold very soon. Please let us know if there is anything else that we might be able to help you with if needed. I hope the rest of your day goes well.
Get you chore lists ready, moms and dads. There are always things to pickup, floors to sweep and mop, dishes to be done and laundry to be folded and put away! Wynnewood Schools will be closed again tomorrow because of the potentially hazardous driving conditions. Make use of the free labor before they move out. Y'all stay warm and safe.
Because of very hazardous road conditions in town as well as our rural roads, Wynnewood Public Schools will be closed today and all school activities are canceled. This is NOT a virtual day. No assignments will be given. It is just considered an inclement weather day. Stay safe.
From our Wynnewood School family to yours, Merry Christmas and Happy Festivus, and don't forget rule #4, kids: Festivus isn't over until the head of the household gets pinned.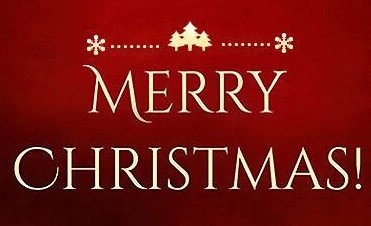 Good morning, Folks, There seems to be a rumor going around that we are closing the elementary school down due to COVID-19 related issues. That is not true. We have some students and staff that have tested positive over the past few weeks, and we have quarantined some students due to contact tracing. Building and district wide we have had many more students out either in isolation or quarantine than we currently do right now. I don't have our current numbers available right now, but I will post them tomorrow. We are seeing some of the effects from Thanksgiving break, but as of now, we see no reason to shut down any of our buildings or facilities. Have a great day!
Good Morning! I apologize for not communicating much lately. My wife and I both tested positive for COVID-19 a few weeks ago, and I didn't do a very good job of keeping up with everything. My girls in the office and our District staff, however, did a wonderful job with the day-to-day operations. It's humbling to realize just how expendable I really am. Lol. It's also very comforting and gratifying to know that we have such capable and trustworthy people working in our District. Here are our latest COVID-19 numbers: ES - 2 positive cases (4th graders) and 29 in quarantine as a result of contact tracing for various reasons. MS - 1 positive case (6th grader) and 30 in quarantine as a result of contact tracing for various reasons. HS - 1 positive case (11th grader) and 2 in quarantine as a result of contact tracing for various reasons. I'd like to close this message by taking a moment to brag on our parents. I made 32 phone calls yesterday afternoon to inform parents in each of our buildings that their son or daughter would have to begin quarantining based on investigations performed by the health department. Not a single parent responded negatively or argued the mandate. Everyone was kind and understanding. I really cannot begin to describe how grateful we are to work with parents and a community who work so hard to show us patience and grace. We know the stress and inconvenience that these issues cause you. We love you guys and our kids. Thank you for working with us and enjoy the rest of your weekend. Tim Simpson, Supt.
Good evening, Due to the chance of hazardous driving conditions tomorrow morning, Tuesday will be a virtual learning day. Staff and students will not report to school/work. We will still have our regularly scheduled virtual day on Wednesday, Coaches will be reach out to their players regarding practices/events scheduled for tomorrow and Wednesday. Have a great night and stay safe.
If you have a few extra minutes this afternoon at 4:30pm, please give us a look as we are proud to offer live streaming of today's varsity academic meet vs Elmore City. This is a great opportunity for friends, family, and community members to watch an event they might not normally get to see in person. Anyone can view our live streamed events on any device by going to WYNNEWOODSAVAGES.TV This link can also be found on our website.
PTSO MEETING
We have no new COVID-19 cases to report today. Have a great weekend, everyone!
Although I have not received official notification from the health department, I have been informed that we have an elementary school aide currently in isolation from testing positive for COVID-19. From the information I have received, contact tracing will be limited to individuals she had close contact with last weekend. I have been told that contact tracing will not involve the school district. I have also received notification (not from the health dept.) that an elementary school custodian tested positive. With regard to our student population, we currently have no active cases in any school.
I hope everyone is having a good evening. I am here to report that there is nothing to report. No new cases today. : )

Please click the following link to see important information and changes to our COVID-19 protocols revolving around contact tracing and the quarantining of students and staff.
https://5il.co/l0r7
Good Afternoon, Folks, As of the end of the school day today, we have no new cases to report. I hope everyone has a great evening!
As far as confirmed positive cases are concerned, last week was a much better week. We only had one reported case--one 7th grade boy. We do, however, have some information coming to you soon regarding changes to our quarantining policy in order to comply with state statute and state and local health department guidelines.
I had a very nice parent call me today and ask me if we have had any new cases of COVID-19 show up this week because she hadn't seen an update since last week. We haven't (knock wood), but I think I will update everyone at the end of each day either way, at least for a while anyway. Have a great night, folks.

Free meals for students through December 31, 2020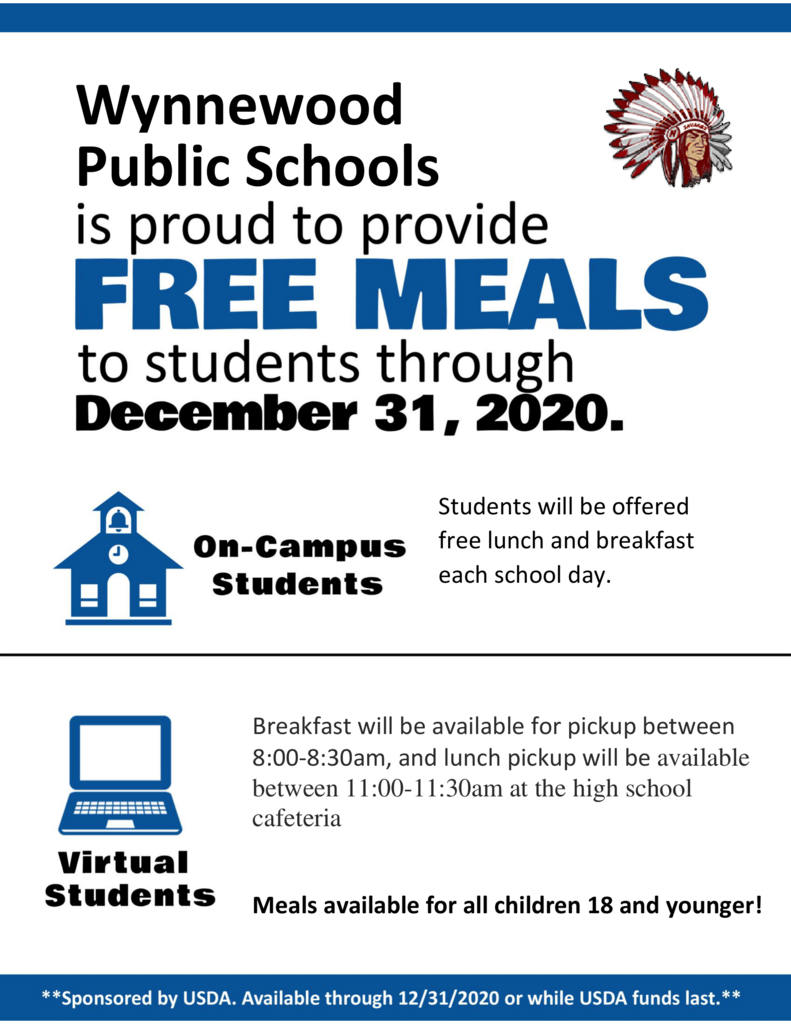 Good Morning, I want to update you on a few more positive cases that have been reported to us today: One 11th grade female who is also a softball player (she's actually been in quarantine since last Sunday). One 12th grade male who is also a football player. One 7th grade male who is also a football player. One elementary school teacher's aide who has not worked with any children this year and has worn a mask since day one of school starting. I know these updates can cause anxiety for people. In my opinion, we will see cases every week for the indefinite future. I don't believe it's any different, though, in school districts throughout the country that are offering a traditional learning option. Hang in there. We'll get through this together.