Good afternoon! This message is to inform our parents and guardians that Friday, November 18, will be a virtual day for our students. All staff will report to work and teachers will participate in necessary professional development. Please email your child's teacher if you have any questions or if your child is struggling with the assignment. We understand that the 18th is the Friday before Thanksgiving Break, so we have asked teachers to keep that in mind and make sure that assignments are reasonable. Our kids need the upcoming break as much as our staff does. Thank you for your support and consideration, and please reach out to your building's principal if you have any questions prior to November 18th.

​The Chickasaw Nation Impachi! (Let's Eat) Meals for Kids Program is gearing up for Thanksgiving Break. Attached is a meal site flier for the Wynnewood area. This is a free nutritious food resource for all children/teen between the age of 1-18 and they do not have to be tribal affiliated. The children/teen must be present and consume meal onsite.​​
Dear Wynnewood Schools' Families and Community Members, It is with profound sadness and heavy, broken hearts that the Wynnewood Public School District and its Board of Education extend its deep and sincere condolences to the family, friends, teachers, and anyone else with a connection to Hunter Armstrong. It has been a difficult day for our high school staff and students, but they leaned on each other with love and support as they tried to process this tragedy through a myriad of emotions. We would like to thank Rance and Michelle Rue of Jetty Counseling Services, Pastors Jarrod Kendall, Sheldon Williams, and John Russell, School Counselors Donna Maples and Brandi Ingram, and our Student Resource Officer Josh Moore for being by our side at 8:00am this morning to provide comfort and care to our students and staff. In the days and weeks ahead, students may have questions and concerns relating to Hunter's death and will require support at home as well as our continued support at school as they work through their feelings and grief. Although we cannot predict how our students will react as they process their emotions, we can be sensitive and aware of their struggles as they come to terms with their feelings of loss. If you feel your child is having difficulty and may benefit from additional support, please contact either the high school office, the high school guidance counselor's office or the superintendent's office so that we can address your needs and the needs of your child. We are also supported by Jetty Counseling Services and can provide you with referrals as needed. As our school community and our community at large continue to cope with the loss of Hunter, we kindly invite all of you to participate in the healing process if the opportunity arises, and remember that we are here for you always, now and forever. Sincerely, Tim Simpson Superintendent

Parents and guardians there is a new place to fill out the free and reduced lunch application online located in the student records portal. Go to:
www.wynnewood.k12.ok.us
Click on: Gradebook (top right corner of page) Log into : Wen-gage Click on: Student Records Portal Click on : Lunch Room Application Fill in and Upload Application Click on: Green Checkmark in Top Left Corner

Wynnewood Public Schools is looking to hire 2 full time cook positions at the middle school. The job details are a follows: Hours. are 6a.m.-1p.m. M-F. Applicant must be willing to cook, clean, put up groceries, daily paperwork, be capable of lifting 50lb., and most of all, enjoy working with children. Interested applicants can contact Christina Deslaurier at 
cdeslaurier@wynnewood.k12.ok.us
 or 405-665-1111.
Wynnewood Public Schools is looking to hire 2 full time cook positions at the middle school. The job details are a follows: Hours. are 6a.m.-1p.m. M-F. Applicant must be willing to cook, clean, put up groceries, daily paperwork, be capable of lifting 50lb., and most of all enjoy working with children. Interested applicants can contact Christina Deslaurier at
cdeslaurier@wynnewood.k12.ok.us
or 405-665-1111

Title VI Public Meeting Date: September 14, 2022 Time: 3:30pm Location: Superintendent's Office Conference Room

If a parent/guardian completes a free or reduced-price meal application in July or August 2022 and that meal application is approved for free or reduced-price meals, they will be eligible for Summer 2022 P-EBT benefits retroactively when pick-up files are sent to DHS in October. This will only apply to Summer 2022 benefits. Check school website for information on how to apply.

Indian Ed Meeting canceled for August 24, 2022.
We want to send a big THANK YOU to Pastor Jarrod Kendall, his staff, and all the volunteers who provided an incredible lunch for our entire staff yesterday! Everyone in attendance also received note pads and pens as well as the opportunity to win several gift cards through a raffle. First Baptist Church has always been a steadfast and gracious supporter of our school district's staff and students, and we are eternally grateful for all that you do for us and our community.
Good Morning, WPS Families! Unfortunately, the USDA will not be subsidizing the cost of breakfast and lunch anymore. If you qualify and have not filled out the Free and Reduced Lunch Application, please do so as soon as possible. Online applications can be found on the Parent Portal or you can pick up an application at any school office, and once completed it can be returned to any school office. The cost for a student lunch is $2.55 and .40 cents for reduced students. Remember that breakfast is FREE for ALL students. If you have any questions, please contact one of our building principals or secretaries. I hope everyone has a wonderful day!

Community engagement and input is an important resource regarding the implementation of the District's ARP/ESSER III plan and budget. We are holding a community engagement meeting in the high school library at 6:30pm or immediately following the regular school board meeting on Thursday, April 14, 2022 to discuss and receive input regarding the District's ARP/ESSER III plan and budget for the 2022-2023 school year.
Due to the high probability of hazardous road conditions tomorrow morning, Wynnewood Public Schools will be closed and will remain in distance/virtual learning Friday, February 24th.
Good afternoon, folks, After watching the local weather maps and models predict the effect of the upcoming weather systems and receiving information from the National Weather Center in Norman, Wynnewood Public Schools will be closed Wednesday through Friday. All school related activities and practices are canceled through Friday. These will be virtual/distance learning days, which means our students have been sent home with assignments from each of their teachers. Students will have instructions and information on how to reach their teachers if they need any help with any of their work over the next three days. If you need to reach a principal or someone at the central office, please call and leave a message, and it will be forwarded to that individual's cell phone. Your phone call will be returned as soon as possible. With the windchill, it is going to get bitterly cold over the next few days. If you need warm clothing for anyone in your household, please call a principal or me, and we will do our best to provide what you need. Check on your neighbors, especially if they are elderly. Be safe, folks. Kind regards, Tim Simpson Superintendent, Wynnewood Public Schools
Please vote yes for this important NON-TAX RAISING bond issue on Tuesday, February 8th. Your support of our students and our school district is ALWAYS appreciated!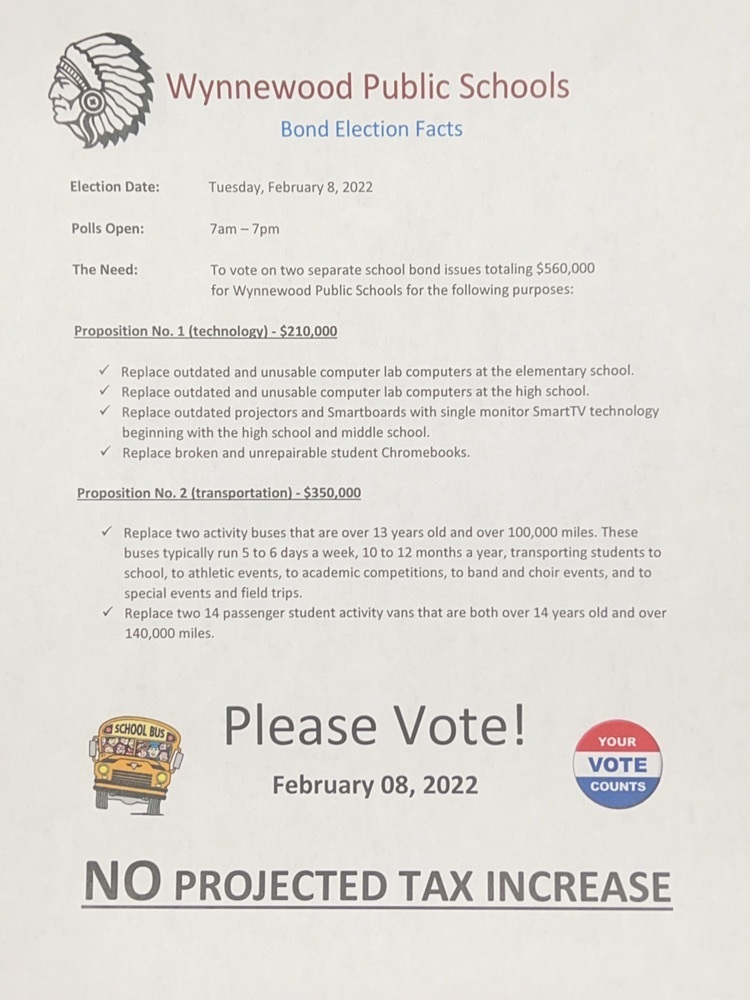 It might be cold outside, but around our school district things start heating up this time of year. Our basketball teams are making their push toward playoffs; spring sports are working hard behind the scenes preparing for the upcoming season; our Ag students are busy taking care of and showing their livestock; band and academic meets are in full swing; and our teachers and students are working hard in their classrooms! The COVID Omicron variant is trying to take us down, but by each of us practicing some common-sense safety measures sprinkled with some good old-fashioned grit and resilience, we'll come through this challenge stronger than ever. Life has a way of knocking us to our knees every now and then, but it never stops moving forward and neither should we. Five years ago, our Wynnewood citizens voted for the safety and welfare of our communities' children by passing a $560,000 transportation bond issue that allowed the school district to replace all of its route buses. A renewal of that bond will be on the ballot and up for approval on the February 8th election. An important piece to this election is that THERE IS NO PROJECTED TAX INCREASE ASSOCIATED WITH THIS BOND ISSUE. We have worked hard to be transparent and good stewards of tax payer money, and we hope that you have been able to see all the improvements to our programs, buildings, and facilities. We also hope you see how hard we are working to take care of all the equipment and resources that we already have. Since this is a renewal of the bond issue passed five years ago, this current bond issue is also for $560,000. With this particular bond, the money it generates can only be spent in two different areas: 1. Technology for students and teachers. 2. Vehicles used to transport students. When you go to the polls on Tuesday, February 8th, the $560,000 bond issue will be separated into two different propositions. Proposition 1 is for technology totaling $210,000. These funds will be used to replace outdated and unusable computers in the elementary school computer lab and in our secondary computer lab at the high school. Both of those labs are critically needed for student use. Those funds will also be used to replace broken or unrepairable student Chromebooks as well as outdated Smartboard technology across the district. The old Smartboard projectors and screens will be replaced with single monitor SmartTV technology. Proposition 2 is for student transportation totaling $350,000. These funds will be used to replace two activity buses that are over 13 years old with over 100,000 miles. These buses are on the road almost every day of the week throughout the entire year, including summer. Those funds are also desperately needed to replace our two 14 passenger student activity vans that are both over 14 years old with over 140,000 miles. The equipment and vehicles that we need to purchase with the money from this bond issue are used almost every single day that school is in session. The technology will help keep us up to speed with the digital demands that come with educating students in the 21st century, and the vehicles will allow us to continue to transport our students safely. We need a 60% majority to pass this bond issue, so on February 8, 2022, please come out and VOTE YES to both propositions. Also remember that voting yes and passing both propositions will not raise your taxes a single penny. As a city, we might argue politics and fuss about the price of gas and electricity, but this community never fails to support its children and school district, and that is not something that every community can say. If you have any questions about the bond issue or the propositions, please feel free to email me at
tsimpson@wynnewood.k12.ok.us
or call me at 405-665-2004 or just stop by the office. #OneTownOneTribe
Good eveining, Wynnewood Public Schools' Families: We are aware of and following the social media challenge circulating on TikTok called "The December 17th Challenge" or "The National Shoot-up Your School Day." While the challenge is not specific to our school district or any of our buildings (this is a nationwide issue), we take all threats to our staff and students seriously. Our police department led by Chief Ken Moore will have a presence in each one of buildings tomorrow. We appreciate their willingness to help us bring some peace of mind to our Wynnewood families. Thank you.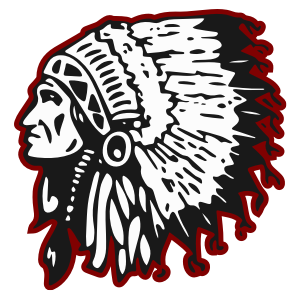 Wynnewood Public Schools is accepting applications for a temporary full time custodial worker in our middle school. This position will probably run through December but could extend past that and possibly turn into a permanent position. The working hours are 10:00am - 6:30pm. We would like to fill this position as soon as possible. Common sense, honesty, and a good work ethic is expected. Applications can be picked up at the superintendent's office, which is located at the east end of the high school (702 E Kerr Blvd). For more information or if you have any questions, please contact middle school Principal Byron Mooney at 405-665-4105.