Red Ribbon Week
Wynnewood Public Schools is accepting applications for a temporary full time custodial worker in our middle school. This position will probably run through December but could extend past that and possibly turn into a permanent position. The working hours are 10:00am - 6:30pm. We would like to fill this position as soon as possible. Common sense, honesty, and a good work ethic is expected. Applications can be picked up at the superintendent's office, which is located at the east end of the high school (702 E Kerr Blvd). For more information or if you have any questions, please contact middle school Principal Byron Mooney at 405-665-4105.

ATTENTION: Changes to the location for Graduation this Saturday!
Remember to signup for Summer Pride! It is FREE!!🏈🥎⚾🏀⛳🎳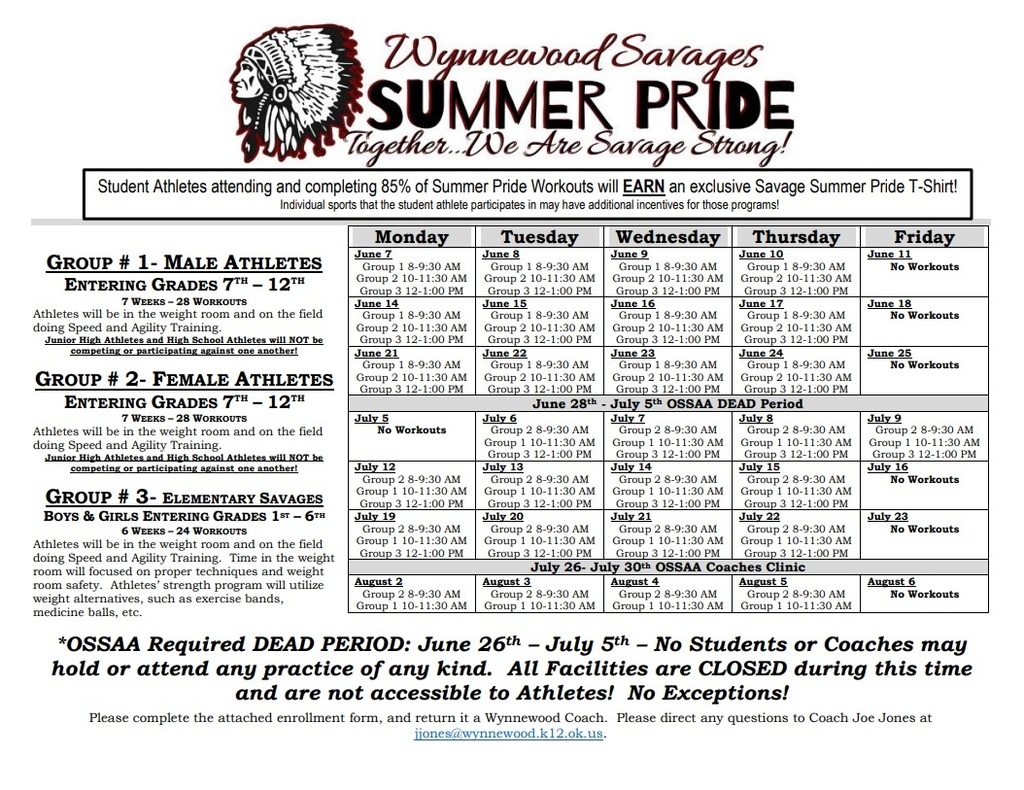 At this time, we are without water due to a water main break in town. We do not have a timeline for repair. If possible, we are asking parent/guardians to pickup their children. We are unable to provide adequate water service for bathrooms or drinking. If you are unable to pickup your children, we will do our best to continue service for those that remain. Busses will still run at the end of the day. Thank you for your understanding.
This is a great opportunity for our qualifying families! The application deadline is August 4, 2021, but the sooner you apply, the sooner you can take advantage of the benefits.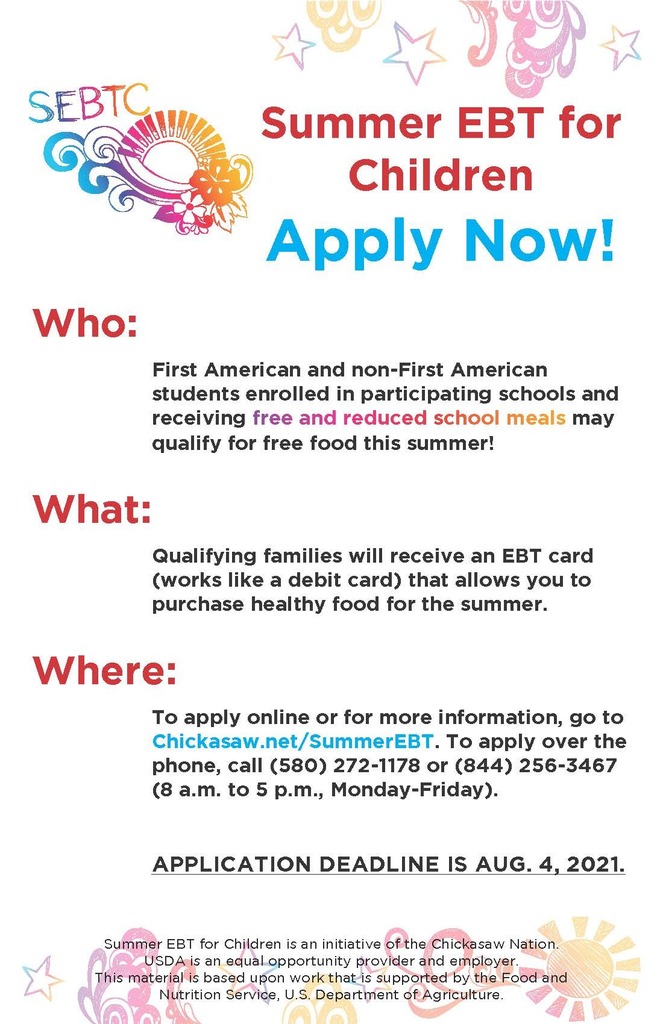 **EMPLOYMENT OPPORTUNITY** Wynnewood Schools has an immediate opening for a cook at our elementary school. We are looking for an honest, dependable person with a good work ethic who takes pride in his or her work and cares about kids. If interested or would like more information, please contact Misty Brown at 405-238-8564, or you can email her at
mbrown@wynnewood.k12.ok.us
**IMPORTANT MESSAGE FOR OUR INCOMING PRESCHOOLERS** Wynnewood Public Schools has been afforded a wonderful opportunity for our incoming preschoolers. At no charge to our district or our families, we are able to offer our preschool students the chance to participate in the Waterford Upstart school readiness program. Those who register for the program will receive a laptop computer, the Upstart software, internet service (if necessary), and a personal Upstart program coach. Not only does the program build academic skills, but on average, students who complete the program enter kindergarten reading at almost a first grade level!. Please visit our website for much more information. If you have any questions, please feel free to call Superintendent Tim Simpson at 405-665-2004. Visit waterfordupstart.org/register to reserve your child's spot or call 888-982-9898. Please take advantage of this great opportunity! Have a great day!
Good morning! Wynnewood schools is strongly considering dividing the overflow parking area south of the middle school into two separate garden areas. One to be used as a district garden and the other to be used as a community garden. We would assign garden plots to residents who would like to grow their own vegetables, berries, and/or flowers. There would be a water supply and tools available. There are many, many details to work out, but before we move forward, we need to make sure there is enough community interest and support to justify the project. As a Wynnewood resident, is this something you would like to see in our community?

Yearbook order deadline is right around the corner. This has been an eventful year and the yearbook staff has done their best to record it: from the delay of school due to COVID, to the first week blackout, to the Arctic Blast! Be sure to order yours soon. Deadline for orders is May 14th. History like this only happens "Once in a Blue Moon". Order forms are in each school's office, or you can order on the Wynnewood Public Schools website.
Good Afternoon! Wynnewood schools will continue with virtual learning for the remainder of the week and will start back in person on Monday, February 22nd. Please do not hesitate to reach out to a teacher, your building principal, or me if you have any questions or needs. Please be careful and stay safe.
Good Afternoon, Folks, I want to get this out to you early enough so that you have time to plan and make arrangements if needed. Wynnewood Schools will be virtual Monday - Wednesday. As we get closer to Thursday, we will determine whether or not we can come back to school. Have a plan in place for the whole week just in case. If you need anything, remember to call or email your child's building principal or me if you need anything, especially food or warm clothing. I don't mind getting out in this stuff and making deliveries. My cell phone number is 440-935-8134. We definitely don't want anyone to be cold or hungry, and I am not just talking about the kids. Check on your senior neighbors and make sure they are okay. If they need something, text me or give me a call. Let your water drip steady from any faucets that are on an outside wall tonight and tomorrow night for sure, and open up your cabinets underneath your faucets before you go to bed. That will allow a little heat to get around those pipes. I tell my wife all the time that dogs are people, too (of course she just rolls her eyes at me), so remember to bring your pets inside or at least make sure they have adequate shelter and a way to stay warm over the next few days. Everyone please stay safe and warm.

Please note!!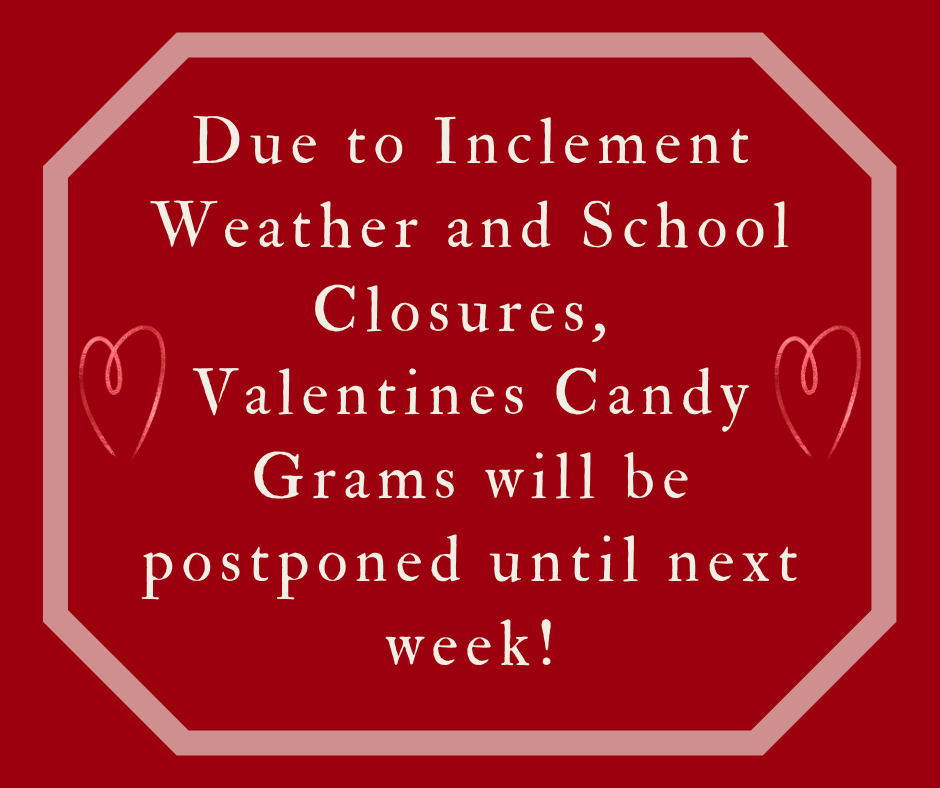 Good Morning, Folks! I am all but certain that school will be in session tomorrow. Next week doesn't look as certain, but Oklahoma weather can turn on a dime, so we'll wait and see what it looks like on Sunday going in to Monday. We will be making sure that our students are going home with their devices tomorrow. If we have to miss school, the days we miss will be virtual learning days. I just want to give you a chance to think about child care if we have to be out for a couple days or more. Even when we are out, if you call and leave a message, the voice recording will be sent to our email inboxes, and we'll be able to get back to you and address the problem. If you find yourself in need of any winter clothing such as coats, hats, gloves, etc. for your kids, please send me (Tim Simpson), your building principal, or your child's teacher a text message, an email, or a voice message so that we can help. It's going to get very cold very soon. Please let us know if there is anything else that we might be able to help you with if needed. I hope the rest of your day goes well.
Get you chore lists ready, moms and dads. There are always things to pickup, floors to sweep and mop, dishes to be done and laundry to be folded and put away! Wynnewood Schools will be closed again tomorrow because of the potentially hazardous driving conditions. Make use of the free labor before they move out. Y'all stay warm and safe.
Because of very hazardous road conditions in town as well as our rural roads, Wynnewood Public Schools will be closed today and all school activities are canceled. This is NOT a virtual day. No assignments will be given. It is just considered an inclement weather day. Stay safe.

Valentine Candy Gram fundraiser!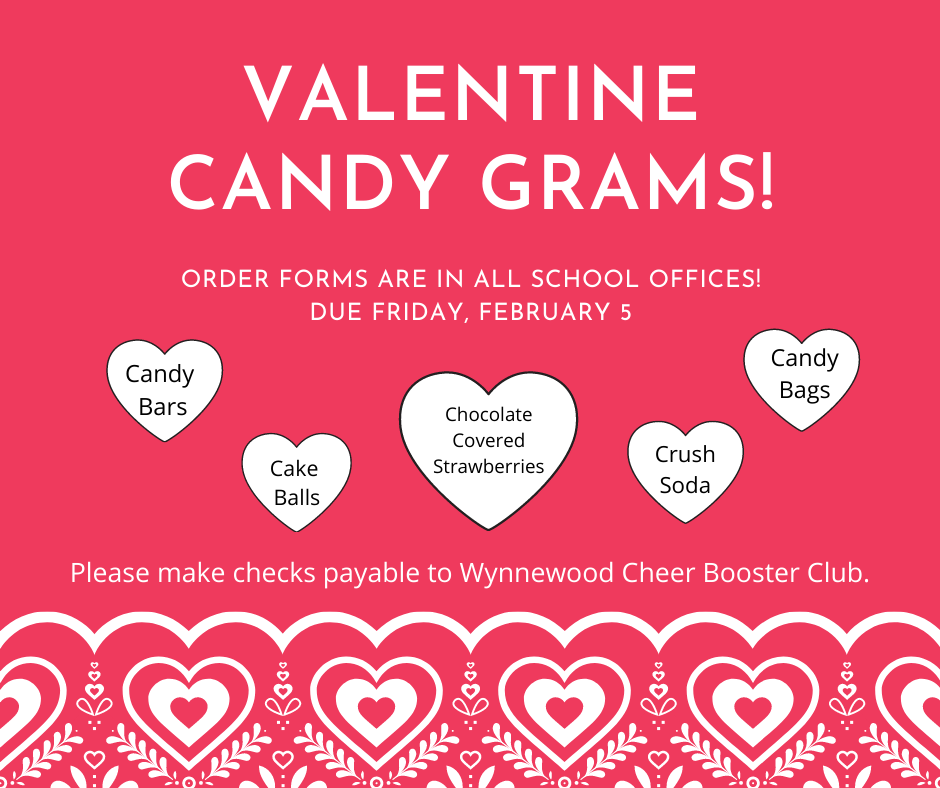 !! REMINDER !! Virtual practice days have been cancelled for the remainder of the year. Tomorrow is a regular late-start Wednesday. Thank you and have a great evening!

Senior Night tonight!! We have about 40 extra tickets. These will be at the gate tonight, which will open at 5:30 pm. Thank you!