Good Morning, I want to update you on a few more positive cases that have been reported to us today: One 11th grade female who is also a softball player (she's actually been in quarantine since last Sunday). One 12th grade male who is also a football player. One 7th grade male who is also a football player. One elementary school teacher's aide who has not worked with any children this year and has worn a mask since day one of school starting. I know these updates can cause anxiety for people. In my opinion, we will see cases every week for the indefinite future. I don't believe it's any different, though, in school districts throughout the country that are offering a traditional learning option. Hang in there. We'll get through this together.
Unfortunately, today we have received notification of several positive COVID-19 test results: One 12th grade male football player Two 10th grade male football players One 9th grade male football player One 9th grade female. The Garvin County Health Department has been notified. All seven active cases are at the high school.
Due to multiple confirmed cases of COVID-19 on our high school football team, our home game against Lone Grove has been cancelled. We'll pass along information regarding the rescheduling of Fall Sports Senior Night as soon as possible.
!! UPDATE!! We have received notification that a male sophomore student has tested positive for COVID-19. As per our guidelines and procedures, we will contact the parents/guardians of students who we can verify have been within 6ft for 15 minutes of this young man, and we will report the case to the Garvin County Health Department and the State Department of Education.. The county health department is the governing body responsible for contact tracing and recommending individual quarantine determinations. Our District policy is to quarantine the individual who has tested positive along with any siblings attending our schools. Quarantining anyone else is a parental decision.
Reminder!!
The Junior High football scrimmage scheduled today against Stratford has been cancelled.
Due to the power failure and after speaking to city hall regarding the estimated timeframe for service restoration, we have decided to allow parents or guardians to pick up their children if they are able to do so. It's not a problem if you can't we'll care for and feed whoever is with us. Our regular bus routes will run like normal at the end of the day. Unfortunately, we do not have phone service either. Absences will not count against students.
In our continuing effort to be transparent and to give family members the opportunity to make knowledgeable decisions revolving around their children, we are informing you that we have received notification today that another high school softball player has tested positive for COVID-19. Whenever possible, we want to allow parents the opportunity to decide whether or not to quarantine their children whenever a positive case has been reported. Based on the close and frequent contact of the girls on the team, and the fact that this is the second positive case in three days, however, we have determined that it is in the best interest of the school district to quarantine the entire high school girls softball team, including coaches, in an effort to curtail the transmission of the COVID-19 virus in our student population and in our community.
August 28, 2020 Dear Parents, Staff, Students, and Community Members: Today, we received notification that a Wynnewood student (a senior) has tested positive for COVID-19. While we must protect the privacy of the person involved, we believe it is best to communicate transparently with you so you can make well-informed decisions for your family. We have been in contact with the county health officials to help guide us through this situation. At this time, we are only mandating the quarantining of the student who has tested positive and his/her siblings (one ninth grade student). Mrs. Dixon, our high school principal, and applicable coaches and club sponsors are contacting parents directly of the students whom we can verify that have been in contact with the affected student in accordance with the "6ft for 15 minutes" rule. That said, we are choosing to allow our parents to decide whether or not they wish to quarantine their children. This occurrence is inevitable, and we have known that from the onset. I encourage everyone to remain calm but vigilant. It is important to remember that children are greatly influenced by the reactions of adults when facing difficult circumstances. All we ask is that you watch your children for symptoms and keep them home if they are sick. Symptoms typically appear 2-4 days after exposure. As a district we will continue to follow the plan we have in place. We are grateful for the opportunity to serve you and your family, especially as we face this challenging situation together. Thank you for your support of our Wynnewood School District. Sincerely, Tim Simpson, Superintendent
I have to brag on our kids, parents and staff. We have more policies and procedures in place than ever before, and today was one of the smoothest first days of school that I have ever experienced. Parents were patient, kind, and helpful. Kids were cooperative, happy, and excited; and our staff was AMAZING in their efforts to provide a safe and caring environment for our students. Words can't adequately express the love and pride I feel for our entire Wynnewood School family. I hope our parents and community members feel like they are a part of that family because we couldn't do what we do without their help and support. I also want to say thank you to our Wynnewood Police Department for ensuring that we had a smooth start and end to our day. #YouCan'tHideThatShine! #WynnewoodStrong
Good morning and Happy First Day, Kids!! WE CAN'T WAIT TO SEE YOU!!

REMINDER!! ALL middle school students being dropped off (or walking) in the mornings must come through the NORTH doors of the middle school. (no exceptions) Our SOUTH side is for bus riders ONLY. Temperatures must be taken before students can enter the building. We appreciate your support to ensure the safety and well being of our students and staff! We can't wait to see our kids tomorrow!
Thank you to everyone who has shown interest in the part-time custodial position at the high school. We are happy to say that the position has been filled.
!! PART-TIME JOB OPPORTUNITY !! Wynnewood Public Schools is looking for a self-directed, conscientious individual to clean and disinfect classrooms in the high school after classes are dismissed for the day. Start time is flexible. Beginning pay is $9.00 an hour. If interested, please call the superintendent's office at 405-665-2004.

Student Council applications are available now in our Middle School office for any 6th-8th grader interested in joining. The applications are due September 1st. See you all SOON! :)

FOOTBALL FRIDAY & SENIOR NIGHT!!!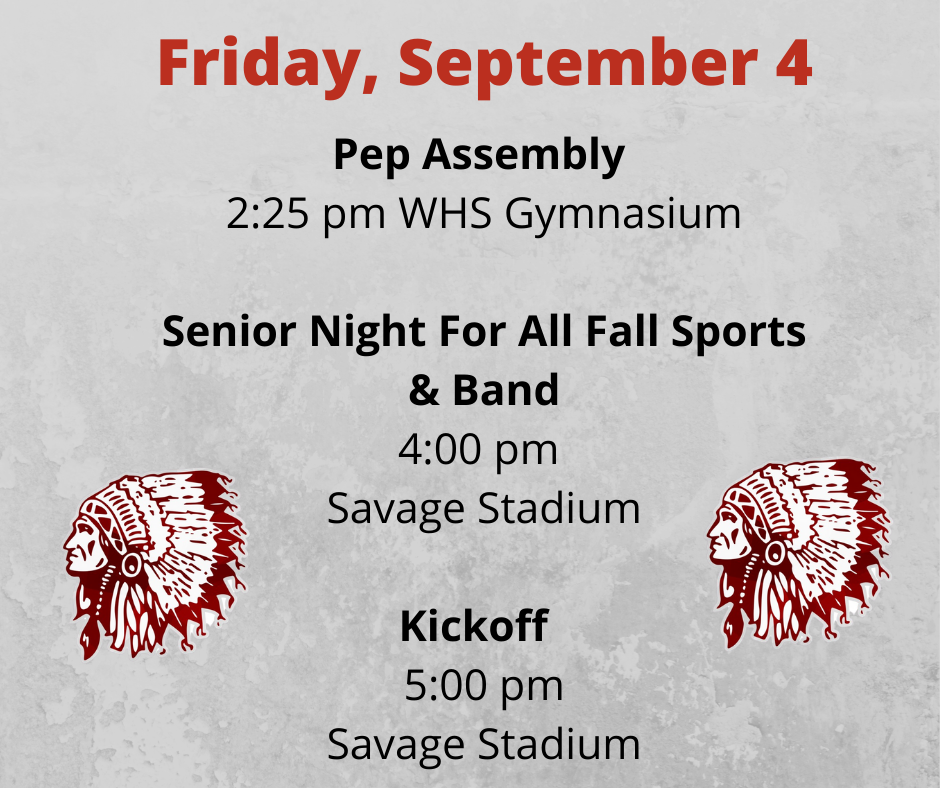 Reminder- Blended/Virtual parents and guardians only. Please be sure that you and your student stop by the Superintendent's office by the end of this week to fill out the Blended/Virtual intake form. The office is open from 8:00am-4:00pm. 702 E Kerr Blvd (405)665-2004
DON'T FORGET... Beginning August 27, the first day of school, breakfast and/or lunch will be available for pickup for all virtual learners grades PK-12 at the Wynnewood High School cafeteria on days when school is in session. Breakfast will be available for pickup between 8:00-8:30am, and lunch pickup will be available between 11:00-11:30am. Breakfast is free of charge to all students, and lunch prices for virtual students are the same as traditional students. Parents or students picking up meals should come to the outside double doors leading into the cafeteria (southeast side of the building).
Wynnewood Public Schools is still looking to hire dependable and responsible bus monitors for the upcoming school year. We need five monitors for our morning routes, which run from 6:30-8:30am, and we need one monitor for our afternoon routes, which run approximately from 2:30-4:30pm (a couple of routes take a little longer). A background check is required and will be paid for by the district. This position pays $8.00 an hour with a start date of August 27th. This is a great part-time job opportunity. Please call the superintendent's office at 405-665-2004 between 8:00am-4:00pm Monday through Friday for more information or to apply.
Wynnewood Public Schools is partnering with Delbert's Grocery Store to hold a Stuff the Bus drive on Saturday, August 22, from 7:00am-7:00pm in Delbert's parking lot. Please consider dropping off a few items from the suggested supply list. The list can be found on the Wynnewood Public School's website, on flyers at Delbert's Grocery Store, and will be published in this week's Wynnewood Gazette. Thank you!!